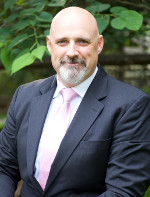 Craig McClain became the fifth Executive Director of Louisiana Universities Marine Consortium on July 1, 2016. Regarded as a nationally recognized marine biologist/ecologist, McClain brings more than 20 years of experience in oceanographic research and has published more than 50 articles which have greatly contributed to this field of study. McClain's research primarily centers on marine systems, and particularly the biology of body size, biodiversity, and energy flow focusing often on the deep sea. He has conducted numerous experiments and studies in some of the most remote regions of the world.
McClain believes in the power of scientific communication. He serves as a social media trainer and a consultant for scientists, providing insight on best practices to effectively engage the public with scientific information.
McClain is also the founder and chief editor of Deep-Sea News (DSN), a top-rated ocean themed blog and social media network which has been featured in both local and national media outlets including Science Illustrated, Charlotte Observer, MSNBC, Fox News, Discovery Channel, and National Geographic. McClain has served as a consultant to ABC News, Wired, Talk Nation Radio, Forbes, and National Public Radio. His work has also appeared in the Columbia Journalism Review.
He is no stranger to Louisiana or LUMCON, as his career as a marine biologist began during his undergraduate participation in a LUMCON summer course.