LUMCON's DeFelice Marine Center is located at the end of LA Highway 56 in Cocodrie, LA (directions). We welcome you to visit us. Pamphlets that describe the Marine Center and our programs will greet you upon your arrival. Educational displays are arranged throughout the facility to provide information on the ecology, cultural history and economy of the region. Public hours are 8:00 am to 4:00 pm seven days a week (excluding major holidays). For general information about visiting the Marine Center, call 985-851-2800 or email us at information@lumcon.edu.
LUMCON's observation tower is a highlight of the Marine Center. After climbing to a height of 65 feet above sea level, visitors are rewarded with a panoramic view of Cocodrie and the surrounding marsh.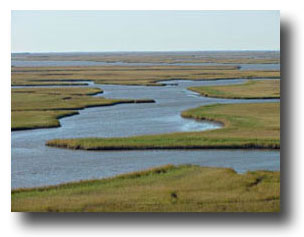 LUMCON's nine aquariums showcase fish and invertebrates that live in the Gulf of Mexico and Barataria-Terrebonne Estuary. Get up close with a moon jellyfish or a bighead sea robin (below).
LUMCON's Marine Center is listed as a prime birding location in America's WETLAND Birding Trail booklet. A walk among our grounds will quickly reveal why. Boardwalks allow for easy access to both ponds, which are teeming with small fish and invertebrates.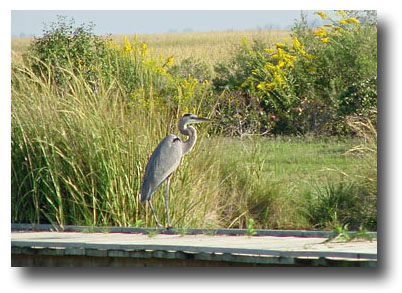 Organized groups may arrange for a guided tour by a memeber of the Marine Education department, or a longer trip including educational lab and classroom activities as well as field trips into the salt marshes, bays or island environments nearby. For information about tours, workshops or educational activities, please visit the Marine Education webpages.