LUMCON'S HISTORY: 1979-2004
The commemoration of LUMCON's 25-year anniversary in 2004 inspired many LUMCON employees to think back about the Consortium's modest beginnings. It's difficult to imagine that all of what LUMCON is today began with just one trailer, a trailer that still stands in the shadow of the DeFelice Marine Center. LUMCON was visualized and created for one main reason-there was a need. The waters off of Louisiana, stretching from the great Mississippi Delta in the east, to the Atchafalaya Delta in the west, required greater examination by scientists. What better way to improve research efforts in this region than by building a marine center on the coast between both deltas and offering a means to coordinate marine research among the state universities?
LUMCON's DeFelice Marine Center is situated at the end of LA Highway 56 in the small fishing community of Cocodrie, LA. Landsat Thematic Mapper Satellite Image-2002: LA DEQ, Baton Rouge; USGS National Wetlands Research Center, Lafayette and Baton Rouge.
In the late 1960s, Louisiana university representatives began to discuss plans for the development of a marine consortium that could meet the growing needs of researchers and provide educational enrichment for students throughout the state.
As written in a LUMCON brochure from the early 1980s,
"A proposal to form the Louisiana Universities Marine Consortium was endorsed by the Louisiana Board of Regents and enacted into law by the Louisiana legislature in 1979. Architectural planning for the Marine Center began in 1980 and ground was broken for construction in April 1983."
But LUMCON began operation at the end of Highway 56 in Cocodrie several years before the Marine Center was constructed. Some LUMCON employees, when remembering these times refer to them as the "Trailer Days."
This article combines material from the three history installments that appeared in LUMCON News from Spring 2004-Fall 2004
"I guess I was crazy for applying to run a marine research consortium," says Dr. Don Boesch. "I was only 34 and I went to interview with the council thinking I really had nothing to lose, but honestly, I never thought I would get the job. I went home thinking, 'Well, that was an interesting experience.' I got a call the next day; it was Sunday, and amazingly they were offering me the job. This was a dreamlike opportunity to build a research center in a place where I was born and raised…in a place where I used to go fishing with my father."
Dr. Don Boesch, a New Orleans native, was Executive Director of LUMCON from 1980 to 1990. He now serves as President of the University of Maryland Center for Environmental Science. Boesch left a faculty position at the Virginia Institute of Marine Science in 1980 to return to his home state of Louisiana and build LUMCON's DeFelice Marine Center and the research vessels Pelican and Acadiana, a feat that would prove to be more difficult and complex than he had ever imagined.
"When I came here in August 1980, it was pretty crude; we were operating out of a run-down trailer," recalls Boesch. "There was great promise and commitment for the facilities, but within the next two months it started to disappear. I was here for over two years with no real appropriations for the building or the vessels. My job, which I thought was to build the consortium, turned out to be convincing everyone to provide funding for the facilities. When I came in, there was a political transition; the new administration had to figure out who we were and what we were trying to do."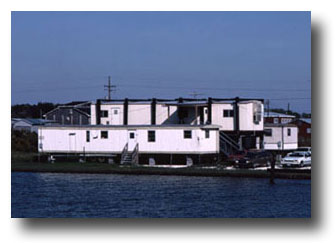 The trailer in the foreground housed the kitchen and dormitories, the trailer on pilings contained the administrative offices, and the rear trailer contained the library and vessel operations and maintenance offices. Photograph by Michael Dagg.
When Boesch signed on as Executive Director of LUMCON, Louisiana had recently elected David Treen as its governor. Treen served as governor from 1980-1984, replacing Governor Edwin Edwards, who had served from 1972-1980. Edwards was reelected to serve as Louisiana's governor from 1984-1988 and 1992-1996. Boesch eventually succeeded in acquiring funds to continue with the construction of LUMCON's Marine Center and build the vessels, a great relief to LUMCON's first faculty member, Dr. Michael Dagg (1981-present).
"I had nothing. I came down here from Long Island and for six months was living in one end of my trailer; my lab was on the other end," says Dagg. "It was a totally primitive lifestyle; any kind of experimental work had to be very simple. I remember I had a microscope and a few things I had brought with me, but we had no ships and we were unable to do much field work. Thankfully, we did have electricity?most of the time. And I had mosquito netting to sleep under. People were always walking in and out of the trailer and it was filled with mosquitoes…without the netting I couldn't sleep.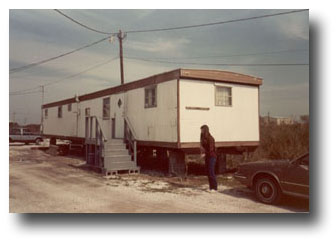 Dr. Nancy Rabalais stands in front of the trailer that served as her laboratory and office from 1983-1986. She estimates this pictures was taken in 1984.
LUMCON's second faculty member, Dr. Nancy Rabalais (1983-present), laughs when asked about her first impressions of LUMCON, but quickly adds, "I had come to visit Don and to see the place. I had spoken to a few people. I knew what I was getting into."
"There were just five trailers when I got here in 1983…the library, the administrative offices, the zooplankton lab, the benthos lab, and the kitchen/dormitory," says Rabalais. "They were finished dredging the marina for the facility and had just begun driving pilings into the ground. We were continually reminded of the construction because of the ground shaking and the noise."
The DeFelice Marine Center Rises From the Marsh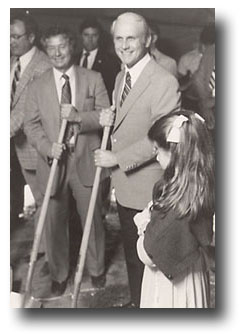 Louisiana Senate President Sammy Nunez and Governor David Treen (center) prepare to break ground for the Marine Center. Ten-year-old Kristin Boesch, the daughter of Dr. Donald Boesch, stands in the foreground.
After four years of operating out of trailers and swatting the ever-present mosquitoes, the time had finally come for LUMCON to break ground on construction on its Marine Center. It was April 1983, and Governor David Treen (1980-84) was scheduled to fly in to attend the much-anticipated event. Dr. Donald Boesch remembers the day clearly, although the weather was anything but clear.
"It was the morning of the ceremony and after an unusually long period of dry weather, we had this tremendous rain that turned the construction site into a quagmire," said Boesch. "Governor Treen had traveled down from Baton Rouge by helicopter and had almost turned back because of the intensity of storms. I remember the Governor getting out of the helicopter and looking rather green in the gills because of the harrowing ride…I also remember wondering if he was thinking he had made a big mistake."
The groundbreaking ceremony was moved into a National Guard tent that LUMCON had borrowed in anticipation of rain. Soggy guests packed into the hot and humid tent as plans were quickly rearranged in response to the less-than-opportune conditions.
"I had a lump in my throat and my heart was at my feet, but we still started the ceremony as planned with the Dusenberry Family singing the National Anthem in French," recalled Boesch. "When they sang in their beautiful harmonizing voices, it was so moving. I believe it transformed the whole process and everyone forgot about the adversities we were encountering that day."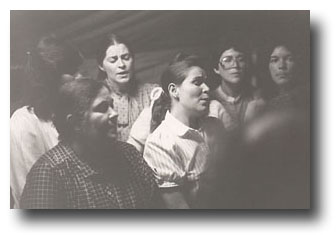 Wilma Dusenberry (front left) and several of her daughters open the Marine Center groundbreaking with song.
As ground was broken under the army-green tent, LUMCON took its first steps towards construction of its current Cocodrie facilities. With its observation tower that rises 65 feet above the ground, the Marine Center is a striking feature on the flat marsh landscape. This 75,000-square foot building and the neighboring maintenance center, together sit on over 800 pilings, each 120 feet long. The Marine Center was designed with ample protection from hurricane flooding and winds-the main floor is elevated 18 feet above mean sea level, the exterior is constructed to withstand wind gusts of up to 250 miles per hour, and the laboratories are centrally located within the building.
LUMCON employees moved into the new Marine Center in 1986, even though its construction was not completed until 1987. "Moving into the building was absolutely wonderful. It was a joy to finally be in here,"recalled LUMCON scientist Dr. Michael Dagg.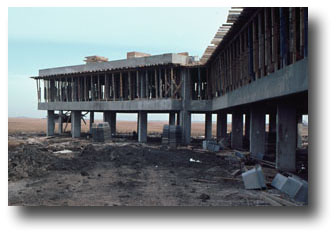 This photograph shows one wing of the Marine Center as it appeared during construction in fall 1983. Photograph by Michael Dagg.
The Marine Center's dedication ceremony was held beneath the facility in May 1987 and was attended by approximately 200 people, including Governor Edwin Edwards, LUMCON Council Chairman Dr. Darryl Felder, U.S. Representative Billy Tauzin and U.S. Senator John Breaux. "John Breaux can clearly be considered one of the political founders of LUMCON. He supported the concept of the Consortium back in the late 1970s," said Boesch.>
Another strong advocate of the Consortium was Woodrow J. DeFelice (1914-87). In January 1996, the Marine Center was renamed the W.J. "Woody" DeFelice Marine Center in recognition of his support for LUMCON and his dedication to improving education in Louisiana. DeFelice served as Lafourche Parish School Superintendent from 1959-71 and served on the Louisiana Board of Regents from 1974-80.
As LUMCON forged ahead, increasing its number of employees and expanding and strengthening its research and education programs, the old, weather-beaten trailers began to slowly disappear. Only the administrative trailer that housed Boesch's office still remains in its original location.
Marine research and education centers are often known as much by their land-based facilities as they are by their seagoing vessels. LUMCON is certainly no exception. LUMCON's research vessels, crew and marine technicians have long been an integral part of the Consortium's success. Whether cruising along the continental shelf for several weeks of oceanographic research, or simply venturing into Terrebonne Bay for a two-hour educational cruise, LUMCON's vessel operations have gained the Consortium respect from researchers and educators worldwide.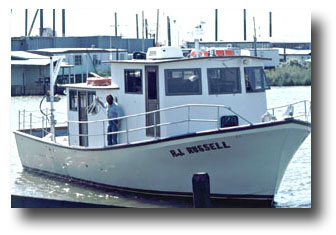 The R/V R.J. Russell managed to stay afloat for many years, despite a perpetual leak of water into the forward bunk room. The vessel's crew was never able to locate the exact location of the leak. Photograph by Michael Dagg.
LUMCON acquired its first research vessel, the R.J. Russell, from Louisiana State University in 1982. Cruises on the Russell were more than a little rocky, as Wayne Simoneaux, LUMCON Marine Center Superintendent, can attest to firsthand. "We always came back with what we left the dock with personnel-wise…but not always equipment-wise,"said Simoneaux, who was hired in 1985 to work as a cook, engineer and assistant captain on the Russell. Steve Rabalais, LUMCON Director of Operations and Facilities, has his own memories about the ship.
"The ship's fiberglass was leaking and the plywood started rotting and growing mushrooms," said Rabalais. "There was this huge bracket fungus growing in the wheel house," Rabalais recalled, extending his arms to either side of his head to demonstrate its enormous size. "The Captain, Lee Black, called it his garden."
While LUMCON's employees were thankful for the Russell, they realized her limitations and their need for a larger, better-outfitted oceangoing vessel. Boesch and Rabalais, spent several years planning for this new ship, and when the 105-foot sparkling blue and white R/V Pelican turned the bend and sailed into LUMCON's harbor in May 1985, it was greeted with great celebration.
"When the Pelican came in, we all came out of the trailers and drank champagne," recalled LUMCON professor Dr. Nancy Rabalais. "Everyone felt like it was their boat."
LUMCON's R/V Pelican was designed by Gulf Marine Design, Inc. of Mandeville, Louisiana, and was built by Allied Shipyard in LaRose, Louisiana. She has proven herself to be an exceptional ship, repeatedly ranking as one of the nation's top University-National Oceanographic Laboratory System (UNOLS) vessels. "For the last eight years we've been the most utilized class four vessel in the entire UNOLS fleet, often utilized more than larger class three vessels," said Steve Rabalais.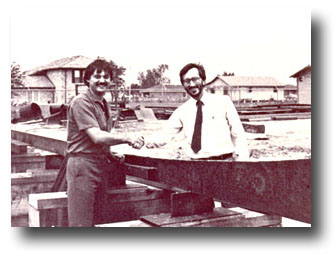 Dr. Donald Boesch (on right) shakes hands with Tommy Dantin, President of Allied Shipyard, over the keel of the R/V Pelica during the vessel's keel-laying ceremony in 1994. Photograph by Glen Pitre.
While the Pelican was well-suited for oceanographic research, LUMCON needed a smaller vessel for nearshore research and educational cruises. In 1986, LUMCON sold the R.J. Russell and added to its fleet the R/V Acadiana, a 58-foot ship that was built by Breaux's Bay Craft in Loraeuville, Louisiana. School groups from across the country have sailed through Terrebonne Bay aboard the Acadiana, learning about the estuary through hands-on activities such as fish and invertebrate identification and water quality testing.
Interest in LUMCON's marine education program rapidly expanded when the Consortium's first Marine Education Instructor, Dr. John Trowbridge, was hired in June 1987. "My first day I had about two hours of trying to figure out what to do before the phone started ringing and people wanted to bring students down," said Trowbridge. "It was quite amazing. It blossomed very quickly." In fact, the interest for marine science education in Louisiana was so strong that LUMCON's only marine educator often relied on staff from other departments to accommodate all of the visitors. "Everyone was super and really kicked in. It was very much a family environment and a labor of love," said Trowbridge.
LUMCON's marine education program has continued to flourish over the years as instructors have expanded programs for K-12, university and teacher education. LUMCON's research programs have likewise grown and diversified. With interests ranging from monitoring Gulf of Mexico hypoxia, to improving marine aquaculture techniques and predicting toxic algal blooms, LUMCON's scientists have focused on answering important marine science questions that are pertinent not only to the residents of Louisiana, but also to the nation and the world.
As LUMCON looks to the future, it almost unavoidably looks back to its humble, yet hopeful beginnings. "There are a lot of people at LUMCON who have seen it through the hard times to where we are today," said Dr. Nancy Rabalais. "There's a lot of dedication." From a few trailers clustered on the side of a harbor, to a world-renown research and education facility with a fleet of sought-after vessels and a top-notch staff, LUMCON has clearly come a long way. No matter what surprises lay ahead, the Consortium will continue to chart forward as long as it has the strength and support of its employees and of those members throughout the state who utilize its many resources.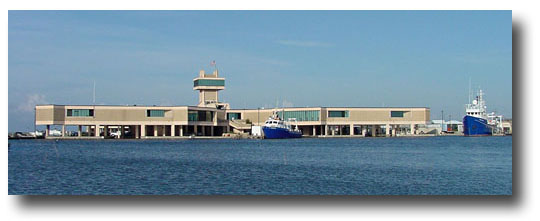 LUMCON's DeFelice Marine Center as it looks today. The R/V Acadiana is in the center of the photograph, the R/V Pelican is on the right. Photograph by Danielle Richardi.